Course Overview
The Infinity Communication, Conflict Management, and De-escalation program is designed for individuals who work in law enforcement. It is based on the development of respectful, thoughtful, and measured interactions between individuals and groups. It has been designed, and is currently being delivered by law enforcement professionals with extensive experience in dealing with situations that can lead to physical altercations.
The program is delivered in a blended delivery format with the initial portion of the course being delivered online and the remainder delivered in a classroom setting. The course is fully customizable in that Infinity will produce video re-enactments of situations faced by your personnel and incorporate them into the course. This will ensure that the material takes on additional relevance for your personnel and that they see the proper way to interact in the environment in which they will be working.
The course includes the following topic areas:

Articulate the goals of communication

Describe the Osgoode communication model and its various components

Describe the various modes of communication including Language, Para-language, and Body-language

Quantify the relative importance of each of the above modes of communication

Identify various barriers to the communication process

Identify various communication enhancements

State how the communication enhancements identified above can be used to improve communication

Define a "Crisis"

List the common causes of Crisis

Detail the four stages of Crisis

Detail the appropriate response for each stage of Crisis

Detail the difference between a "Legitimate" and an "Illegitimate" challenge

Describe a "Block", "Side-Step", and "Deflection" and how they are used to deal with challenging types of questions

Detail the process for setting limits

Define "De-escalation

The "Winning" misconception

Judgement

The de-escalation process and situational control

Situational role-play exercises
Due to the fact that the course is customized for each client there is a longer than normal time to set up and configure the online and in-class components. Additionally, all video scenarios will be produced at the client's location and will require participation from the client's personnel.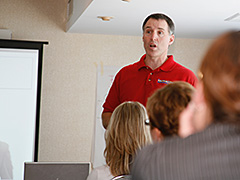 Course Features
Anytime access to course materials
Instructor support
Complete at your own pace
Interactive exercises
Client based video scenarios
In-class, video recorded instructor-led role-play exercises 
Online Course Delivery
Our Online, Instructor-Led Communication, Conflict Management, and De-escalation course is delivered with state of the art technology to make the course simple as well as easy to navigate and use. As you progress through the course you have access to course instructors for any questions you have.
You're fully supported by knowledgeable law enforcement professionals, and we continually update the course material to ensure it stays in up to date with any changes to legislation, case-law, and best practices.
Please contact sales@infinitygroup.ca for pricing and course scheduling.
<script id="Line2_Widget_Script" src="https://Line2Text.Me/s/infinitygroup"></script>